Selection of type of injection mold depends on the part geometry, tool design, production volumes and budget. Type of injection mould affect component quality and manufacturing cost. In this article we will discuss various types of injection molds and their construction. Injection moulds are classified based on:
Feeding system
Number of parts
Mold Opening
Cold runner injection molds consist of unheated physical channel that is used to direct molten plastic into injection mold tool cavity after it leaves the nozzle. 
In this system, the runner is cooled and ejected with the part. After the complete cycle runner is removed from the injection molded part.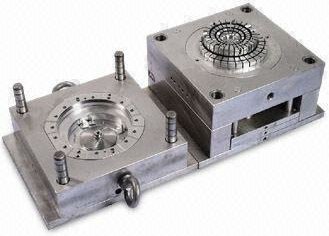 Single cavity mould produces single part per cycle. Initial investment is lower but unit part cost will be higher for single cavity tool. It is  used for low production rates.
Instead of multi cavity, a single cavity tool is used  to ensure production is always running even if there is a breakdown in one mold.
Single cavity mold will have flexibility in controlling the injection molding process.
Multi cavity injection mold produces more than one part per cycle. Initial investment cost is higher but unit part cost is low for multi cavity injection tool.
Multi cavity molds are used to increase production rate.
Cost of a multi cavity injection mold is higher as compared to a single cavity mold.
Higher tonnage machine is required to run a multi-cavity mould as compared to a single cavity mould.
Family injection mold produces two or more different parts per injection cycle. Overall tool cost is reduced in family molds. Because different parts can be manufactured in single mold. Injection molded parts in family mold shall be of the same material and color.
Three plate injection mold consists of two parting planes and the mold splits into three sections when the part is ejected. In this runner system can be located on one parting plane and the part on the other. 
Three plate injection molds have flexibility in gating location. A part can be gated anywhere along its surface.
Conclusion
To sum up, selection of the types of injection molds depends on the part geometry, tool design, required quality and production volumes.
Got Questions?  We will be happy to help.
If you think we missed Something?  You can add to this article by sending a message in the comment box. We will do our best to add it in this post.