Springs are a very commonly used component in products where motion is involved. Springs are used to store mechanical energy and release it when required. In our daily life we use lot of products with springs. Springs are used in analog watches, bicycles, cars, some toys utilizes springs.  In this article we will discuss various types of springs and their applications.
What is Spring?
Spring is a mechanical component that changes its shape and stores mechanical energy when a force is applied. And it regains its original shape when force is removed.
Types of Springs and Their Applications
According to spring shape and line of action of load, springs are classified into following types.
1. Helical / Coil Springs
This is the most commonly used mechanical springs. Helical springs are made of wire coiled in the form of helix. Cross section area of wire can be round, square or rectangle. Helical springs can be classified in following types.
Tension Spring
Compression Spring
Spiral Spring
Torsion Springs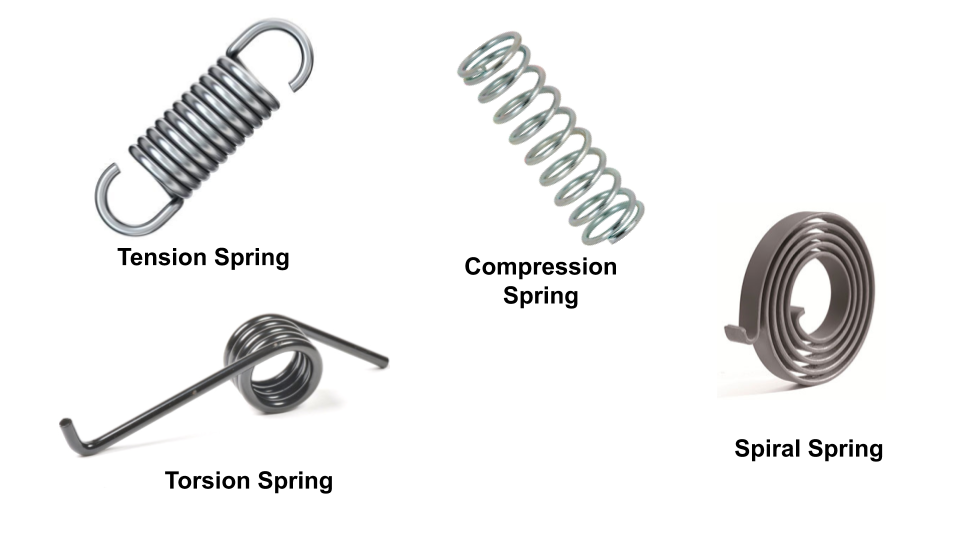 Tension Springs
Tension helical springs are designed to operate in tension loads. In this the spring coils are spaced at very small distance. Their application includes:
Garage Door Mechanism
Weighing Machine.
Spring Loaded jaw Pliers etc.
Compression Springs
They are designed to operate in compression load. Compression springs helical coils are spaced at relatively larger distance. When a compression force is applied, their length reduces. Compression springs application includes:
Shock absorber
Suspension
Retractable Pen etc.
Torsion Spring
Torsion springs are used to store twisting force. They are used where rotational motion less than 360º is required. Their applications include:
Door Hinge
Mouse Trap
Safety Pin
Spiral Springs
They are flat springs and consist of flat or round wire in round helix fashion. Spiral spring releases a constant amount of force. Their application includes:
Toys.
Mechanical Watch
Seat Recliner
2. Leaf Springs
They are also known as laminated / carriage / semi-elliptical springs. Leaf spring consists of a number of flat plates also known as leaves of varying length sandwiched one on another using clamps and bolt. 
Plain carbon steel (SAE 1095) having 0.90 to 1.0% carbon is used to manufacture leaf springs. After forming spring leafs are heat treated to improve strength, deflection and fatigue properties.
Leaves/Plates and made from spring steel. They are commonly used in automobile suspension.
3. Disc Spring
Disk spring is a round shaped conical disk. It deforms at relatively shorter distance when compression force is applied in the axis of disk. They have applications where large loads are applied but have small space available. Disk springs can be stacked on one another in parallel or series to achieve required spring rate.
Disk Springs have following applications:
Fail Safe Spring Actuators
Clutch Plate
Vibration Isolation
High pressure valve.
Types of Disc Springs
Following types of disk springs are available. But Belleville springs are more popular.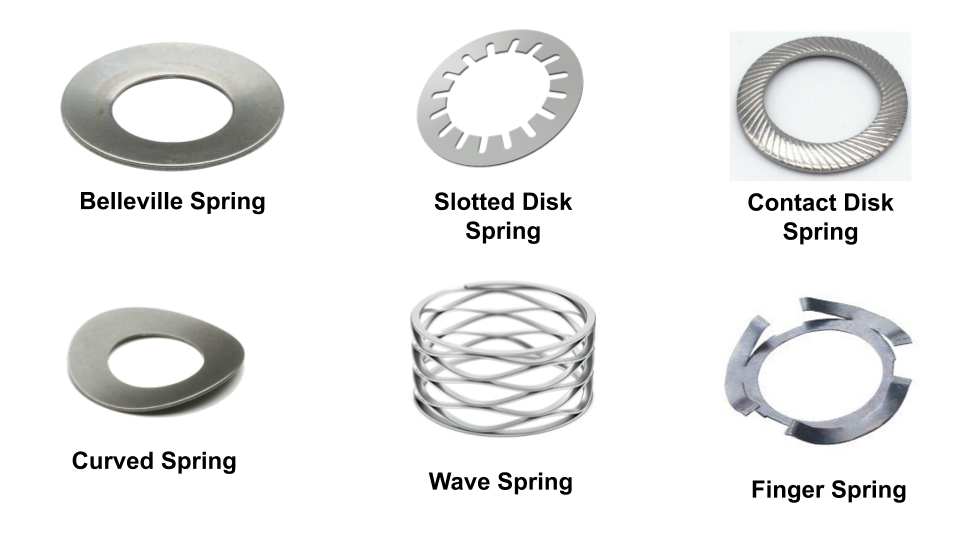 Belleville Spring / Washers
Slotted Disc Springs
Contact Disc Spring
Curved Spring
Wave Spring
Finger Spring washer
Conclusion
To sum up, Mechanical Springs are used to store mechanical energy and release it when required. Various spring types are available according to type and direction of load applied.
Got Questions?  We will be happy to help.
If you think we missed Something?  You can add to this article by sending a message in the comment box. We will do our best to add it in this post.