Drilling machine primary operation is to cut straight holes in a component. But depending on tool type, various operations can be performed on drilling machine. In this article, we will discuss various drilling machine operations and their applications.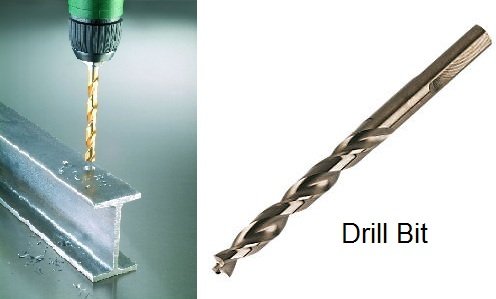 Drilling is metal cutting operation by rotating and pressing multi point cutting tool to cut a circular straight hole in solid materials. Multi-point cutting tool is known as drilling bit. Standard drill bits in various sizes are available.
To drill a hole, drill bit is rotated at very high rpm.
Reaming enlarges existing hole diameter to make it more accurate and improve surface finish. It is a finishing operation and does not cut much material.  
In Reaming, reaming tool is rotated at approximate half RPM of the drilling operation.
Tapping is a thread cutting operation inside a hole. This operation makes internal threads in existing hole. Tapping operation can be done with hand tools or using drilling machine.
Tapping tools are required for this operation. in this spindle is rotated at very low speed.
It is a metal cutting operation for enlarge existing hole diameter. Boring tool bit is a single point edge cutting tool. 
Spindle speed is kept relatively low during boring operation.
Counter-boring is a metal cutting operation to create a stepped hole. In this, a relatively larger diameter hole is drilled in smaller hole axis.
It's application is to flush fasteners head with part surface. Drill tool bit is used for counter-boring operation.
Countersinking is a metal cutting operation for making a cone shaped enlargement at the start of already drilled hole. Angle of the conical surface is generally kept 90º or 120º .
Its application is to provide recess to a Countersunk fastener. Drill tool bit can also used for countersink operation.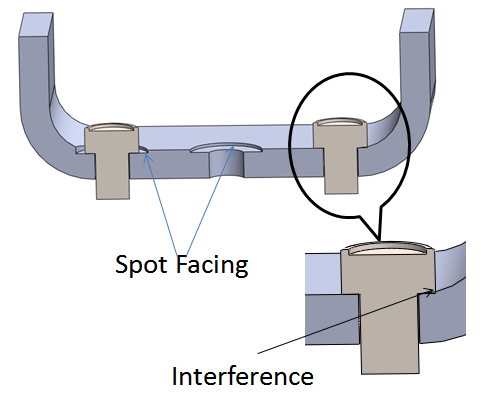 Spot facing is a small height counterbore. It's application is to face the area where bolt or nut has to sit. It is done to provide adequate seating to a fastener.
Spot facing is a counterbore but the counterbore is not a spot face.
Conclusion
To sum up, Along with primary drilling operation, various other operations can be performed on drilling machine. Major drilling machine operations includes reaming, tapping, boring, counter-boring, countersinking, spot-facing etc.
We suggest you to read this article on types of springs and their applications.
Got Questions?  We will be happy to help.
If you think we missed Something?  You can add to this article by sending message in the comment box. We will do our best to add it in this post.