When you are about to reach home. Smart lighting system knows it's time to turn on the lights and it automatically turns on the smart lights. Or when you order a pizza, as soon as the pizza guy arrives with your order, porch lights automatically turn on. Smart lighting technology is a part of smart home systems and can have numerous applications. This article covers what is smart lighting system? it's applications and how it works.
Smart lighting system is a lighting technology for smart homes that is connected with the internet. These smart lights can make decisions, follow schedules and can be controlled remotely using a mobile app, voice-activated personal assistants or condition based IFTTT technology.
Most of these smart lights come with various smart features such as changing light color, set reminders etc. Possibilities are huge.
Benefits of Smart Lighting Technology
Initial investment cost to install smart lights for home or office is high. But smart lights offer following benefits compared to conventional lights:
Saves Electricity
Users can set schedules, control brightness and control smart lights remotely. Some smart lights can be controlled depending on occupancy as well. All of these features saves electricity and reduce cost.
User Convenience
When you wake up at night to go to the kitchen or somewhere else. Motion based smart lights can detect motion and turn on automatically. This improves user experience.
Remotely Controlled
A user can control a connected smart lighting system remotely. For example, if you are out of the city and want to turn on lights. It's possible with a smart lighting system.
User Customization
Most smart bulbs available in the market have features to change intensity and color. Therefore users can set the light color and intensity according to their needs.
Types of Smart Lighting System
Following types of smart lighting systems are available in the market according to their applications and how they are controlled.
Smart Light Bulbs.
Smart Lights connected with hub.
Motion Sensing Lights.
Let's discuss these smart lighting systems in detail.
Wi-Fi based Smart bulbs is a low cost smart lighting solution. They can be installed in common bulb holders. Users need to pair smart bulbs with the local wifi network and afterwards they control bulbs remotely. According to requirement, users can install multiple smart light bulbs.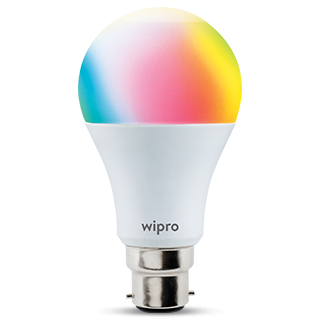 Control remotely
Adjustable brightness
Scheduling
Mood based light colors
IFTTT compatible
Can be controlled from Alexa or Google Home.
2. Smart Lights Connected with HUB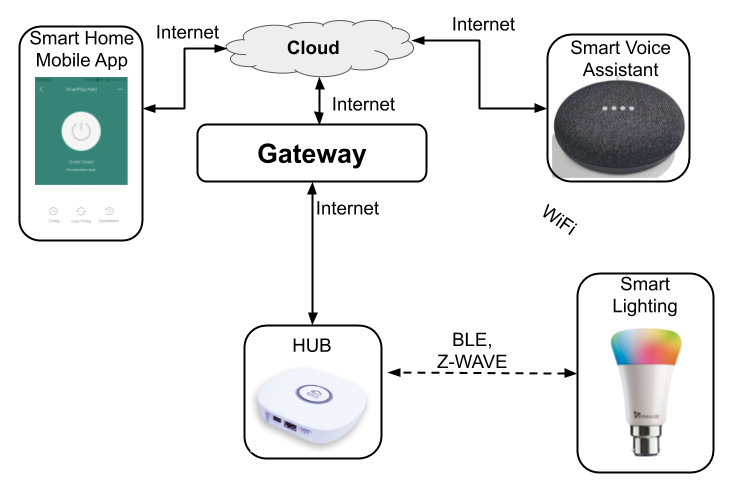 Existing smart home systems can be expanded by installing smart lights working on the same communication technology. As shown in the above image, these smart lights connect with the internet through HUB. Their disadvantage is that they can not be used without a hub.
PIR sensors are used in motion detection smart lights to detect motion and turn on lights. For example motion sensing smart lights will turn on when a person approaches them. Following are the application examples of motion sensing smart lights:
Switch on lights when you walk in the gallery.
Motion sensing smart Street lights can detect motion on the road. Lights will turn on when they detect motion on the road.
Communication Technologies used in Smart Lighting System
Following communication technologies are used to connect smart lighting system with the internet or smartphone and control remotely.
1. Wi-Fi Connected Smart Lighting System
Wi-Fi based smart lights are connected to the internet using Wi-Fi routers and can be controlled remotely. But they can not be controlled if internet connection is not available.
2. Bluetooth Connected Smart Lights
Bluetooth based smart lights can create a mesh network and can be controlled using BLE enabled smartphones. To control bluetooth based smart lights remotely, bluetooth Hub is required. Bluetooth hub is used to connect Bluetooth connected devices to the internet.
3. ZigBee / Z-Wave Connected Smart Lighting System
Similar to Bluetooth based lights. ZigBee and Z-wave based smart lights also create a mesh network. But they can not be controlled without Hub. To control them ZigBee / Z-Wave Hub is mandatory.
According to user requirements, a smart lighting system can be controlled in the following three different ways.
Mobile apps and Voice Assistants.
Motion Detection

IFTTT : If This Then That
Working of Smart lights using Mobile Apps / Voice Assistant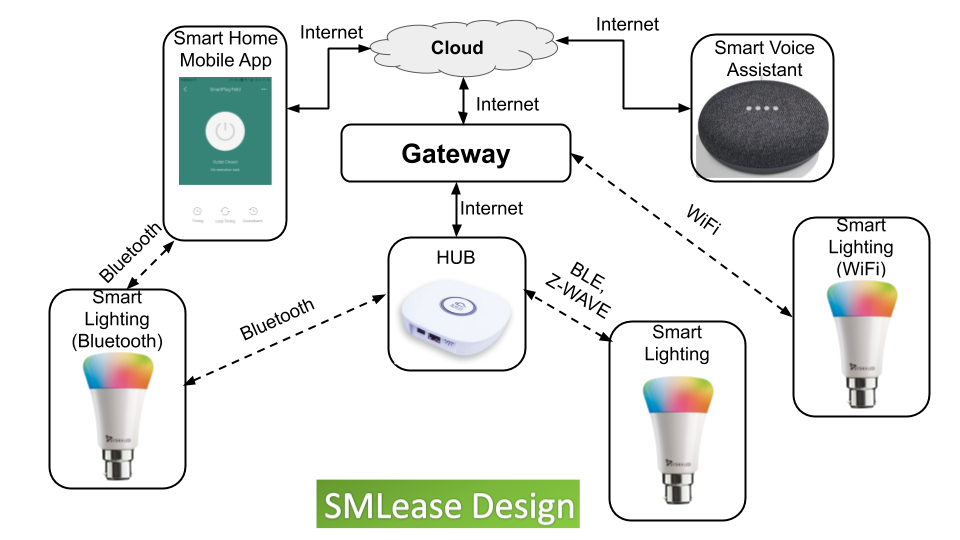 As shown in the above image, according to the type of technology used in the lighting system. Smart lights are controlled using smartphone apps or smart voice assistants by connecting them to the internet or bluetooth via smart hub, gateway or directly.
Working of Motion Sensing Smart Lights
In this smart lights are connected with motion sensors using wire or wireless connection. When motion sensor detects motion. It sends a signal to HUB or directly to a smart bulb to turn on.
Working of IFTTT controlled Smart Lights
Smart lights can be controlled using IFTTT (IF THIS THEN THAT) a condition based technology. In IFTTT user can set conditions such as: When he is about to reach home, switch on the light. To achieve this you need to purchase an IFTTT enabled smart lighting system.
Smart Lighting Bulbs and How much they Cost ?
To sum up, Smart Lighting Technology is a very important building block for Smart home Automation. Users can remotely control them, set schedules and they can change color according to their mood. All of these features except dimming and multiple color features, can be achieved by connecting ordinary bulbs with a smart plug as well.
We will keep updating more information on smart lighting systems. Share your comments, suggestions and questions in the comment box.