When you enter your home, home system detects you are at home and it automatically turns on the lights. Or when you order a pizza. As soon pizza guy coming with your order, porch lights automatically turns on. Smarts lighting can have numerous applications. In this article we will discuss what is smart lighting, it's applications and how it works.
What is Smart Lighting ?
Smart lighting is a lighting technology for smart homes that can be controlled from an app, voice-activated personal assistants or condition based (IFTTT). This opens up a world of possible features of smart lighting. Some of them are given below.
Control the Lights Remotely.
Adjust brightness as per user needs.
Change the colors.
Condition based Lighting : For example when you reach home lights will automatically turns on. 
Different lights as per user activity and mood: Lights will automatically change when a user is about to go to sleep or reading.
Types of Smart Lighting and how they Works ?
Communication and sensing technology is a key in smart lighting system. Most of Smart Lights utilizes Bluetooth, ZigBee, Z-Wave or Wi-Fi for communication. Some manufacturer also use their propitiatory technology as well. For that separate hub is required.
Smart Lighting are also operates based input from occupancy sensors.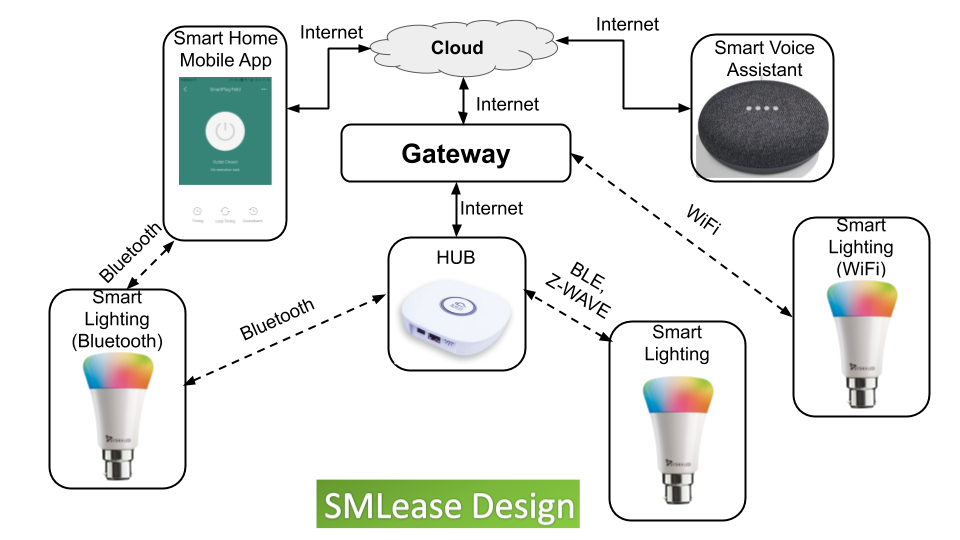 WiFi Based Smart Lighting
WiFi based smart lights can are real time connected with the internet. Therefore they can be controlled remotely. They do not require HUB but can not be controlled without internet.
Bluetooth Based Smart Lighting
Bluetooth based smart lights can create a mesh network and can be locally operated using BLE enabled smartphones as well. To remotely control a Bluetooth based smart lights Bluetooth Hub is used.
Smart light sent signal to hub, that is further send to cloud. As a result, lights can be operated remotely and by using voice assistant devices. 
ZigBee / Z-Wave Based Smart Lighting
Similar to Bluetooth based lights. they can also create a mesh network but can not be operated without Hub. To control them ZigBee / Z-Wave Hub is required.
Smart Lighting Bulbs and How much they Cost ?
Following Smart lighting bulbs but not limited to this are available in the market. User can buy a bulb based on his requirements.
Smart bulbs that requires hub generally cost high compared to wi-fi smart bulb.
| Smart Bulb | Technology | Price | Integration | Hub Required |
| --- | --- | --- | --- | --- |
| Philips Hue White | Wi-Fi, ZigBee | $ 24 | Alexa, Google Home, HomeKit, IFTTT | Yes |
| Philips Hue White and Color Ambience | Wi-Fi, ZigBee | $ 42 | Alexa, Google Home, HomeKit, IFTTT | Yes |
| TRÅDFRI IKEA Smart Bulb | Bluetooth, Wi-Fi, ZigBee | $ 15 | NA | Yes |
| Wipro Next Smart LED Bulb | Wi-Fi | $ 20 | Alexa, Google Home, IFTTT | No |
| Syska Smart Wi-Fi LED Bulb | Wi-Fi | $ 20 | Alexa, Google Home, IFTTT | No |
Conclusion
To sum up, Smart Lighting Technology is very important building block for Smart home Automation. Users can remotely control them, set schedules and they can change color based on user mood. All of these features except dimming and multiple color feature, can be achieved by connecting ordinary bulb with smart plug.
Got Questions?  We will be happy to help.
If you think we missed Something?  You can add to this article by sending message in the comment box. We will do our best to add it in this post.
Was the Article Helpful? Help Us by Sharing