Smart home technology utilizes sensors, connected devices and internet of things (IoT) for home automation. These smart connected homes can be monitored and controlled from anywhere using smart home apps, laptop or other connected devices. In this article we will discuss what is smart home technology, why we need this and how it works.
What is Smart Home?
A smart home is a home that utilizes smart internet connected devices to monitor and control home appliances remotely. Internet of things, Cloud computing and Artificial Intelligence are driving factors for smart home technology.
Why we need Smart Home Devices / Home Automation
When you are leaving home, you are not sure if you switched off devices, locked doors or turned on your security system.
User can monitor and control smart home devices remotely. 
These devices can also take decisions according to user requirements.
 User can access real smart home data from anywhere.
This Helps In:
Saving electricity.
Enhances home security.
Improves user Comfort.
How Smart Home (Home Automation) Works ?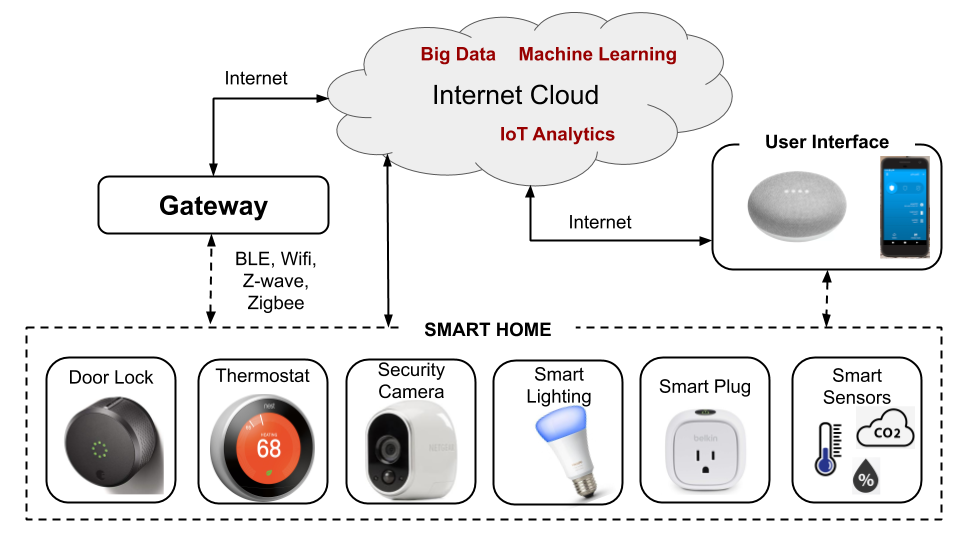 Smart home connects all home appliances and devices to Internet of things. These devices can include:
Home Security System
Heating and Cooling Control System
Lighting System
User Interface Devices
Other Smart home Appliances
All of these connected devices analyse data using edge computing and send it to cloud for detailed analysis. This enable user to control connected devices remotely. Smart home system also send user security alerts as well.
Smart Home Automation Components
Home Automation utilizes following components to make a home Smart.
Home Security System.
Environment Control (Heating and Cooling Control System)
Smart Lighting System.
Smart Home Appliances.
User Interaction Devices
Home Security System
Smart Home security system enable users to access security system remotely. They send alerts to user when they detect anything unusual. Smart Home security system includes following Devices:  
Smart Door Bell
Door bell is the first thing a visitor interact with at your home. Smart doorbell is an connected doorbell that send an alert to doorbell app. It activates and send live video when a visitor presses doorbell button.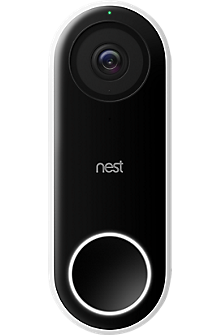 Features
Motion Detection Feature.
Two-way communication.
On demand video feed.
Send an Alert to house owner smartphone when visitor presses doorbell button.
Smart Door Lock
Smart Door lock makes your front door smart. With smart-lock, you are always control your door, no matter where you are. You can control them right from your phone. They also have capability to raise alarm in case of unintended entry.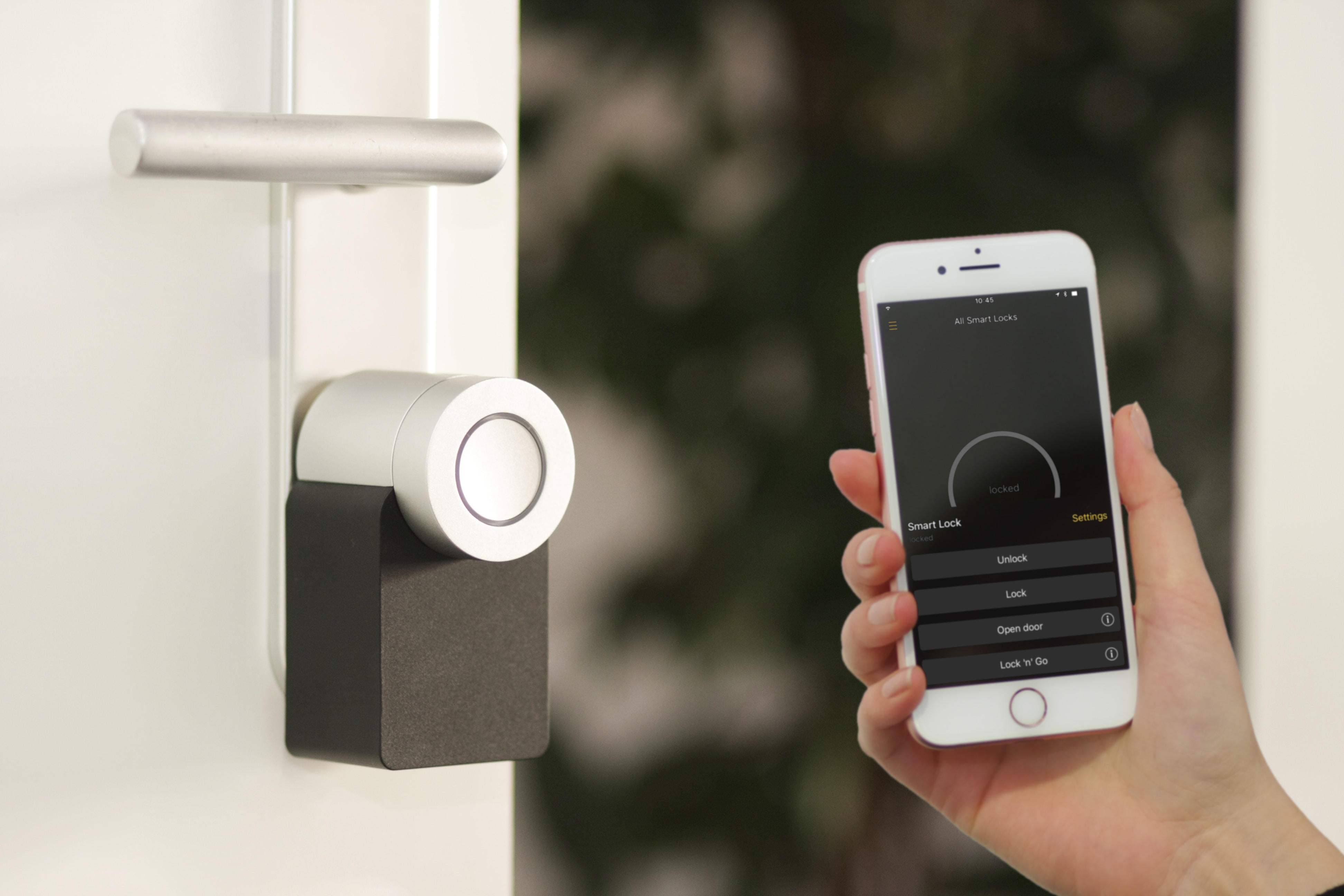 Features:
Activity Monitoring
Guest Access
Auto Lock / Unlock
Remote Monitoring
Smart Lock Devices
Connected Security Camera
A smart connected camera in a smart home enhances household security. Users can demand camera live stream from anywhere. These camera also have features like : motion detection, zoning, night vision and Smart alerts.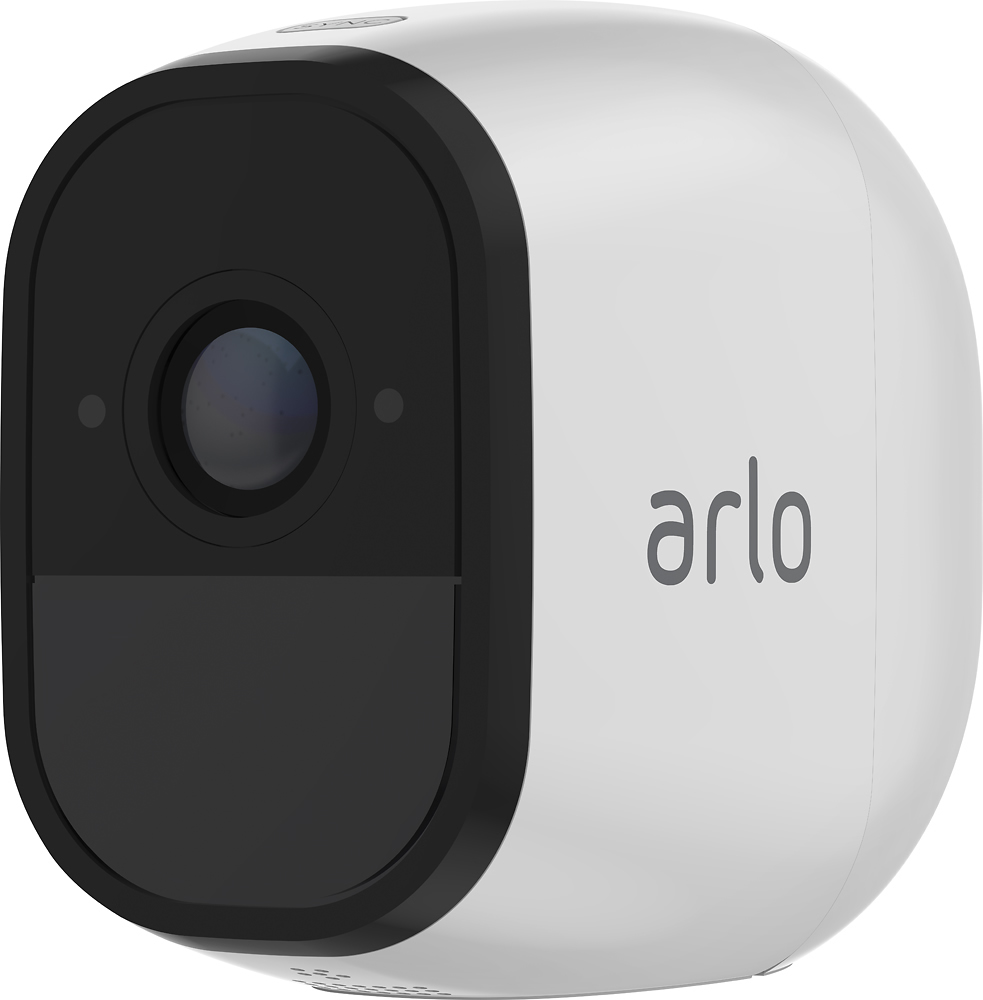 Features
Motion detection
Smart alerts (baby crying, unwanted intrusion)
Night Vision
Two way Communication.
Smart Security Camera Devices
Smart Smoke and CO Detector
Smart smoke and carbon monoxide detectors along with raising an alarm also send audio alert to user connected devices.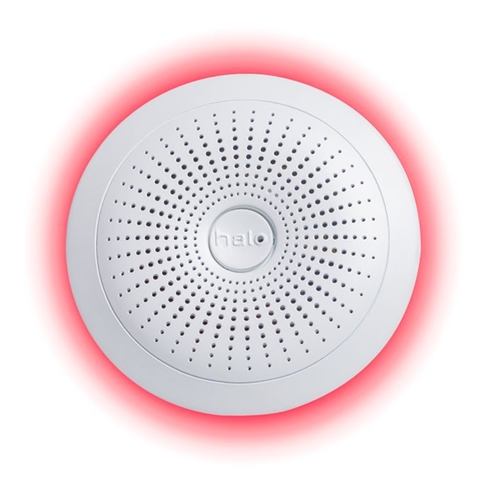 Features
Send Alert to your phone.
Can tell specific place for alarm.
Smart Smoke Detector Devices
Windows / Door Sensor
Windows and door sensors are used to restrict unwanted entry. They set an alert if they detect door or window opening when security system is on.
Features
Detect Door / Window Opening
Sensor with Glass Break detection is also available
Smart Window Sensor Devices
Environment Control
They are used to control the environment such as temperature, humidity, air quality in your home. User can set their preference. 
Smart Thermostat (Heating and Cooling Control)
Smart thermostat are used in smart home automation to control HVAC system. They allow users to control their home temperature remotely. Some of smart thermostat are smart enough to adjust temperature based on user behavior.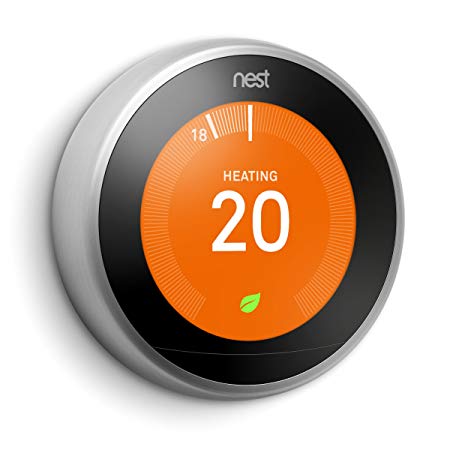 Features
Adjust room temperature based on user behavior.
Improves user comfort.
Saves Electricity. 
Energy Reports
Smart Thermostat Devices
Water Heater Controller
Everyone likes to have a hot water shower when wakes up. Smart water heater controller are used to control hot water supply according to user preference.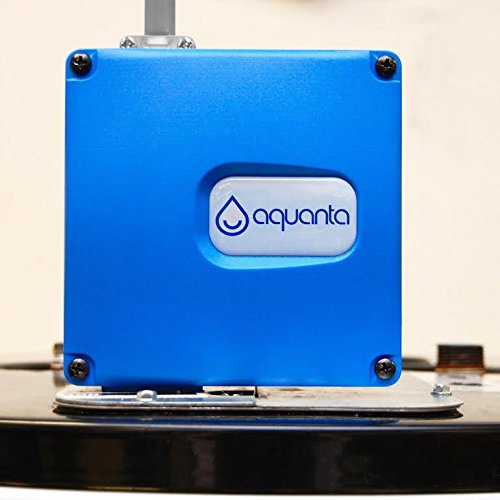 Features
Water Heating as per user Schedule
Saves Electricity/Money
Intelligent Control
Remotely Control
Smart Thermostat Devices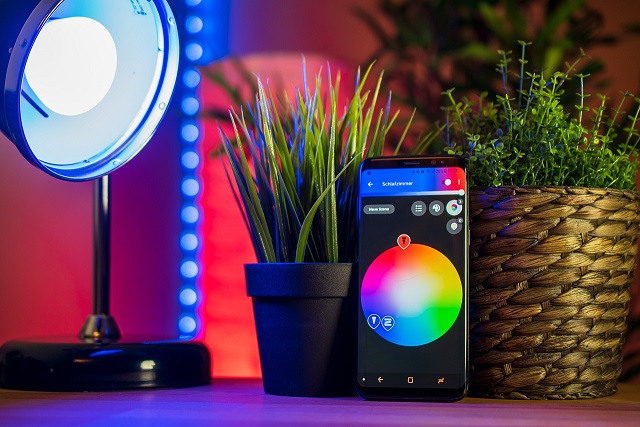 Features
Adjust light brightness.
Multiple colors
Daylight Sensing
Occupancy Sensing
Scheduling
Smart Lighting Devices
User Interaction Devices
To control smart home devices along with smartphone, laptop following user interaction devices are used.
Smart Speaker / Voice Assistant
Connected smart speakers are changing the way we interact with smart device. These voice assistants are capable of giving commands to smart devices. For example, you can control your smart bulb with alexa or google home.
Features
Voice Assistants
Smart devices can be controlled.
Smart Refrigerator
A smart connected refrigerator can control refrigerator temperature more precisely. Therefore it utilizes low energy. It also sends you an alert if it's door left opened.
Features
Look inside the refrigerator on mobile app.
Let you know if you left the fridge door open.
Works with smart speakers (Alexa and Google home).
Create Schedule
Holiday Mode
Cleaning Robots
When you leave for office. A Robotic Vacuum cleaner can do the job of cleaning your home. They are intelligent enough to clean floor autonomously and go to charging station to charge themself.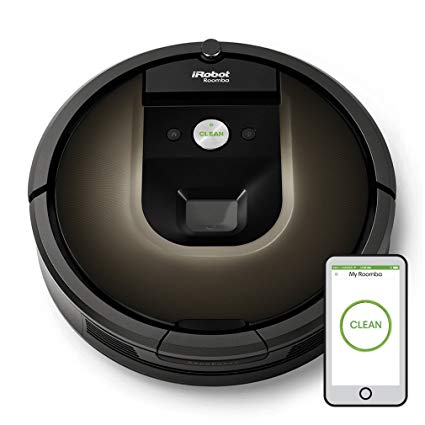 Features
Automatic Cleaning
Smart Mapping
 Voice/Remote Control
Cleaning Robots
Smart Sprinkler System
Similar to other smart home devices, Smart sprinkler system can be controlled remotely.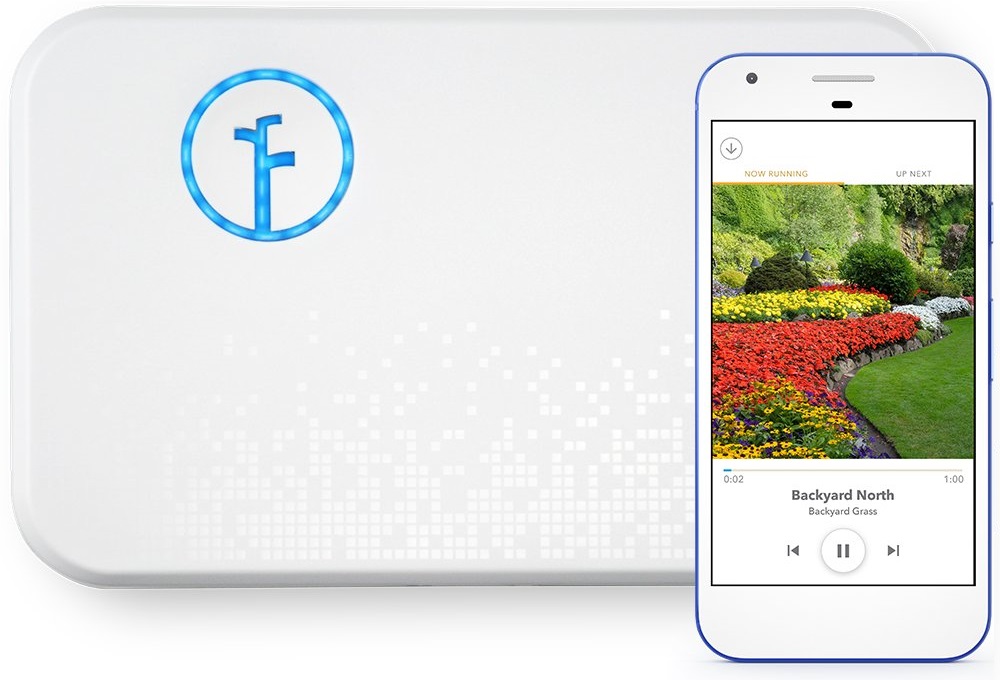 Features
Saves Water
Weather Compensation
Auto Scheduling
Smart Sprinkler Controls
Features
Controlled and monitored remotely.
Can Make any product smart.
Scheduling
Conclusion
To sum up, Smart home automation is becoming more affordable because of more penetration of internet of things, Cloud computing, cheaper availability of data and machine learning technology. They enhances home security, improves comfort level and reduce electricity & gas bills.
Got Questions?  We will be happy to help.
If you think we missed Something?  You can add to this article by sending message in the comment box. We will do our best to add it in this post.